Seattle Kitchen Renovations
Partner With Us On Your Home Renovation
Don't let your dream home remain just a dream – take the first step towards transforming it today! Partner with us on your next home renovation project and experience unparalleled craftsmanship, personalized designs, and exceptional customer service.
With our team of expert professionals, we guarantee a seamless renovation experience from start to finish. Don't wait any longer; take the leap towards a beautiful new home now!
If you are looking to transform your kitchen into a space that is both functional and visually appealing, then our kitchen renovation services are perfect for you. We take pride in using only the highest quality materials and craftsmanship to deliver outstanding results that exceed your expectations.
Our team of skilled professionals has years of experience in kitchen remodel projects, ensuring that every detail is carefully planned and executed to create a stunning end result. From the initial design phase to the final touches, we work closely with you to bring your vision to life.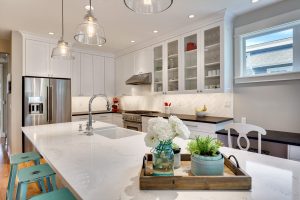 We understand that the kitchen is the heart of your home, and we strive to make it a space that reflects your personal style and meets all your needs. Whether you want to update outdated fixtures, install new cabinets and countertops, or completely redesign the layout, we have the expertise to handle any project.
With our attention to detail and commitment to excellence, you can trust us to provide lasting solutions that not only enhance functionality but also elevate the aesthetic appeal of your kitchen. No matter how big or small the job may be, we treat every project with the same level of dedication and professionalism.
In addition to using top-notch materials, we also prioritize eco-friendly practices whenever possible. We believe in creating sustainable spaces that are both beautiful and environmentally conscious.
When you choose us for your kitchen renovation needs, you can expect exceptional customer service from start to finish. Our team is dedicated to ensuring your utmost satisfaction throughout every step of the process. Contact us today for a consultation and let us bring new life into your kitchen!
Recent Kitchen Renovations
At Schulte Design Build, we specialize in kitchen renovations that utilize the highest quality materials and showcase exquisite craftsmanship. Our team of skilled professionals are experts in transforming outdated kitchens into stunning spaces that perfectly combine functionality and style.
When it comes to renovating your kitchen, we understand the importance of using only the best materials. We source top-of-the-line options that not only enhance the durability of your kitchen but also provide an elegant aesthetic appeal. From premium countertops to sturdy cabinetry, we ensure that each aspect of your kitchen remodel is built to last.
Our commitment to excellence doesn't end with materials – our craftsmen pay close attention to every detail during the renovation process. They meticulously plan out and execute each step with precision, resulting in a flawless final product that exceeds expectations. Whether it's installing intricate tile backsplashes or creating custom-designed islands, our team's expertise shines through in every element of your upgraded kitchen.
We believe that a successful kitchen renovation should not only be visually appealing but also highly functional. That's why we work closely with our clients to optimize the layout and maximize storage space within their kitchens. By incorporating innovative solutions and utilizing efficient designs, we strive to create a workspace that complements your lifestyle while enhancing productivity.
Additionally, customer satisfaction is ingrained in our philosophy. As part of our commitment to delivering outstanding results, we offer personalized consultations and comprehensive project management from start to finish. Our dedicated team will guide you throughout the entire renovation process, ensuring constant communication and transparency so that your vision is brought to life seamlessly.
Investing in a professional kitchen remodel can significantly increase the value of your home while elevating daily living experiences. With our focus on using top-notch materials and superior craftsmanship, you can trust us to revamp your kitchen into a contemporary space that blends timeless elegance with modern functionality.
Schedule a Consultation With Us Today
Get ready for remodeling experience that will transform your home. Schulte Design Build
is the Seattle design build firm you need to get from start to finish with confidence
Schedule a Consult

Integrity
At the heart of our ethos lies our company motto, 'Building it Right,' a guiding principle that permeates every facet of our work.whether under the spotlight or behind the scenes, reflecting our commitment to excellence, honesty, and the creation of lasting value

Trust
We are great at what we do and offer the most professional and reliable service in the industry. Our team is highly experienced, and know how to execute your vision. You can trust us with your project, knowing that you're in good hands

Expertise
Our award winning team has the experience, knowledge, creative talent and a proven process to provide you the service it takes to successfully complete a home renovation project that solves your problems.
Passion
Through our passion, we empower individuals to mold their living spaces into genuine reflections of their identities, fulfilling aspirations, and practical requirements.We channel our love for the craft into creating spaces that inspire, comfort, and truly resonate